About Merlyn
MERLYN BOST
American Encaustic Painter
Brief Bio/ My Art Story
I call Winston Salem, NC home. I moved here with my parents from Pennsylvania at age 3. My father was a professional artist and my mother was a professional singer. Growing up, the home was full of creativity and music. With visual art and performance art in the gene pool, how could I avoid the arts?
Following formal art studies and various jobs, in 1990 I finally settled into the art of paper-making. I created two and three-dimensional artworks, exhibiting throughout the United States & acquiring numerous awards along the way.
Paper making is categorized as one of the fiber arts. The art & craft of paper making proved to be a fit for me. From 1990 to 2010 I continued paper making as an art form. During this time, I also designed greeting cards. I created a unique line of handmade art cards that could be found at Neiman Marcus, Barney's, MOMA gift shop, as well as Paris, London, Tokyo and Zurich. Paper making is a very physical task. Heavy lifting of vats of pulp, lifting screens of drained pulp and pumping the hydraulic press proved to take a physical toll. As the aging process began to set in, arthritis took hold. Paper making was a true love and I did not want to give it up. Facing the inevitable, I investigated what other art forms might speak to me. I attended several workshops before finally discovering what it was, Encaustic painting.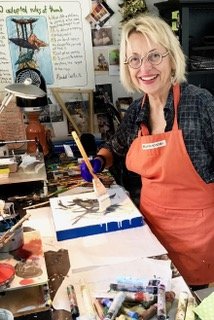 Encaustics is a beeswax-based paint composed of resin & pigment. Encaustic's luminosity, unpredictability & aromatic scent are all compelling reasons I chose to work with hot wax! Like the ancient art of paper making, encaustic painting is also an ancient medium revived. It was used in Rome to seal the bottom of wooden boats and ancient Egypt to seal tombs & mummies.
In 2012, my encaustic studio replaced my paper making studio. The adventure of joyfully making encaustic art continues.
Merlyn lives in Winston Salem, NC with her Tar Heel husband, Mike, and their Standard Poodle, Annie.

                                                                 Annie, the studio dog!
Her favorite quote: "Life is a great big canvas, throw all the paint on it you can."
- Danny Kaye
Representation:

SLOAN HOME & GALLERY 

 Atlanta, Georgia